New Year, New Knitter? : (Photograph), Finish, or Frog
I have not historically been a new year's resolution person. The years I've tried, I find the resolve fizzles out pretty quick, and the shift into the grind of normal life reasserts itself pretty firmly. That being said, around the end of the year, I tend to get reflective about the knitting I did in the previous year and the knitting I'd like to do in the year to come. As a daily knitter, my knitting time is a big portion of my year! With 2020 being such a crazy year, a lot of my routines were broken, and I've found myself looking ahead to 2021 as a fresh start and a chance to reassert some order out of the chaos in all areas.
After some reflection, I've settled on three areas:
Start working out regularly again

(I've already strung together 10 days of working out every other day! Feeling some great momentum going into 2021!)

Add breaks into my workday to stretch, do a 15 minute cleaning task, or just get away from the screens for a bit!

Strive for more discipline in my knitting
While I could talk at length on the importance of items 1 and 2 on the list, I'd like to focus on item 3. I recognize striving for more discipline can mean different things for different people, so here's what I'm looking to focus on for 2021 in my knitting:
Tackle the backlog:

Review all current WIPs and UFOs and decide if I want to finish or frog (and I mean ALL of them), then start working through the backlog of projects

Manage the current projects:

Commit to having a rotation of a set number of active projects that span different categories

Plan for the future:

Resist the urge to drop everything and cast on a new project immediately. Make lists and circle back to them often. Add, modify, or remove projects as need be. Be realistic about the stash you have and the projects it can work in. Be creative about finding ways to modify patterns to bust your stash.
Broadly speaking, my goals circle around WIP management. While I knit for at least an hour every day, I tend to be a distracted knitter; one who spends too much time on Instagram and Ravelry and falls hard for new projects or designs. I get immediately inspired by that Modern Daily Knitting article, that new technique that I haven't tried before, that recent Pom Pom magazine, or that new design Andrea's talking about on the Fruity Knitting podcast. As a result, I can find myself casting on a new project (or more!) every week, without much regard for the projects that are currently on my needles. I've come to realize, there's something mentally daunting for me about seeing that large pile of projects spilling out of the bowl in the living room (and knowing there's more squirreled away in my craft room closet), particularly if I don't want to come back and finish the project.
There was a brief period this spring where I was devoted to working on one or two projects and stopped signing up for test knits. I found a wonderful sense of peace and progress, as all the knitting time I accumulated in a week was going towards a single project (or two). I found myself completing more projects, particularly large ones, including my first cardigan (Tabouli from Carol Feller) and my Golden Horizon pullover that had stalled for many months but was SO close to finishing. 
Now, I know some knitters are amazing about putting a project away for a few weeks, months, or even years, then eventually coming back and finishing the job. I think that is totally amazing, but have come to realize, my current habits weren't building in time for me to go back and finish off those lingering UFOs. 
I'm also told there are naturally monogamous knitters out there, who commit fully to a single project at a time and see it start to finish. I have such respect for that level of discipline, particularly for big items like sweaters! I do think there's something to be said about putting down a large project (e.g., a sweater or a large shawl) for a while and working a palate cleansing project, like a smaller accessory or a gift knit.
That's why I've decided to set myself a happy medium for 2021, which involves committing to a rotation of active projects at any given time. It was key for me that this rotation included a good mix of project types, techniques, sizes, and shapes. But most crucial of all, it needed to include some of my old UFOs. To help me create the short list of UFOs that would become FOs in 2021, I had to take a critical look at the current UFO stash. So without further ado, come take a walk down memory lane with me… These UFOs are presented in the order I grabbed them out of the big plastic bin I used to collect them all from the various hiding places around the house.
Tuinn Bheaga test knit for Liz Corke
Cast on: November 2020
Progress: 30%
Reason for stalling: This popped up in my email just after I was starting to flex my cable muscles, and I fell in love with that chunky cable along the side. After getting into it, I was reminded how much I don't enjoy knitting DK weight shawls. I think it's something to do with the tight gauge…
Determination: Frog!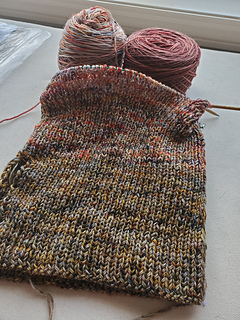 Cast on: June 13, 2020
Progress: 40%
Reason for stalling: I can't remember how I found this design, but I jumped on it for two reasons: 1) I'm always on the hunt for a winter accessory that my husband will love and 2) I knew it would be a great stash busting project. I also decided to teach myself how to do Norwegian purling with this project, which was pretty fun. I got distracted by other projects and the lukewarm reception by intended recipient.
Determination: Finish! Even if Dan doesn't want it, I think it will be super cozy. Great stash busting project / gift knit to keep in mind for the future.
Colorful Keepsake MKAL from Tina Tse
Cast on: April 2020
Progress: 60%
Reason for stalling: I really disliked managing the three colors simultaneously for the sections. Massive shawl too, so I think I lost momentum once I fell behind in clues being released.
Determination: Finish – kinda. Bind off as is. If the length is funny for me, can give to the toddler.
Susurrus by Joji Locatelli
Cast on: February 27, 2020
Progress: 55%
Reason for stalling: Such a tight gauge / small needle combo. Knitting the mohair only rounds gets to be a little tedious, because they're sooooo small. 
Determination: Finish – though it might be a while. Any time I see a finished Susurrus pop up on my feed, I'm reminded how much I love this design. I'm still on the fence about sleeve length – I've seen some nice shorter sleeve versions out there, but I can figure that out when I get there.
Kinship shawl from Olga Buraya-Kefelian and Stephen West
Cast on: December 2020
Progress: 5%
Reason for stalling: I don't have a lot of solids / tonals in my stash, and this design clearly needs them, so I was stretched a bit to find options that worked in my stash for the design. While I like each color individually, I wasn't sure I was loving them together.
Determination: Frog. If I still can't make up my mind about the color choices, I doubt I'm going to love it by the time it's finished. I will come back to this design, but need to rethink my color choices.
Mood Cardigan by Jeanette Sloane (MDK Field Guide 15)
Cast on: August 27, 2020
Progress: 60%
Reason for stalling: I absolutely cruised through the first lace panel, which has shorter rows, but is a longer piece. Now working on the second panel, the rows are super long. I lost some steam getting into these long rows.
Determination: Finish! This design is absolutely gorgeous and is a gift for my mom. Maybe shoot to have it finished by Mother's Day.
Desert Strata Shawl by Jen Peck
Cast on: October 31, 2020
Progress: 50%
Reason for stalling: Mosaic knitting. I am always drawn to mosaic knitting designs, but once I actually get into the mosaic knitting, I'm reminded that I don't particularly care for it as a technique.
Determination: Finish! This design is a stunner and I love my color choices (all from Serendipitous Yarn Co). 
Cast on: December 1, 2020
Progress: 10%
Reason for stalling: Needles I was using weren't great for the cable (a little too grabby). Not sure I'm loving the scale of the cable to the foot size.
Determination: frog. I can come up with a better design for her. (Trust me, she hasn't forgotten that I promised her another pair).
Corcra Sweater for Dan by Carol Feller
Cast on: December 21, 2020
Progress: 40%
Reason for stalling: N/A! This is one of my current WIPs and I'm completely in love with it. I frogged my Molly version B (Cocoknits method) to repurpose the yarn.
Determination: Finish! I love Carol Feller patterns. I always feel mentally engaged when I'm working through them, I was so pleased to stumble across this design. I've been wanting to knit Dan a sweater for AGES.
Simple ZiggurHat by Åsa Tricosa
Cast on: Fall 2020 – it was sent as a sneak peek to her Knit Stars workshop to practice the method
Progress: 20%
Reason for stalling: After getting the hang of the method, I just didn't see the advantage to working it up this way. Plus the stitches felt too full on the 16 inch circulars I was using. Knit other hats for Ruby in the interim.
Determination: Frog. I've tried to use this yarn a few times, but it keeps not feeling quite right. I'm holding out hope that the right project will come along.
Simone headband by Emilie Luis
Cast on: December 15, 2020
Progress: 65%
Reason for stalling: My Lola Bean Advent Calendar arrived and I got super distracted planning a second Dark Phoenix using 10 of the mini skeins!
Determination: Finish! Even if I don't love it on me, I think it will make a great gift knit. Would be interested in making another one with different colors. Great stash buster.
Stjerneskud by Åsa Tricosa
Cast on: Election Day 2020
Progress: 25%
Reason for stalling: After getting through the 'interesting' bits of the initial construction, lost interest in the basic back and forth knitting. Also added the optional gather and didn't realize that it wasn't going to be decreased back out. Made all rows longer…
Determination: finish! I think it's going to fit really nicely once I'm done and I've been hanging onto this Berry Tweed for so long. It'll be nice to have a more structured cardigan to reach for.
Forever October Slouch by Kelly Brooks
Cast on: June 2020
Progress: 40%
Reason for stalling: Not a fan of working with super bulky yarn. Love the look, but hate the knitting!
Determination: I'll be honest, I went back and forth multiple times on this one. I was close enough to be tempting to just push through and finish it (especially since it would make a nice gift), but I ended up frogging it. This yarn was sent to me by mistake, and I got to keep it, so I'm sure a better use will come along.
Cast on: Summer 2020
Progress: 5%
Reason for stalling: Knitting was just 'okay', didn't grab my attention.
Determination: Frog. MDK makes log cabins look SO fun that I had to try and I keep thinking I'm going to knit a blanket one day. There's still a chance I do a log cabin blanket one day, but this won't be the time.
Cabled Flax Hack for Ruby
Cast on: September 8, 2020
Progress: 60%
Reason for stalling: Ambitious cabled panel down the middle of the sweater.
Determination: Finish! Since taking notes for this article, I've actually finished the body and one of the sleeves! I plan to finish before her birthday on Thursday! This was my first play at 'designing' or hacking a sweater design. It uses two cables from Norah Gaughan's amazing book (92 for the center panel and 6 for the sleeves).
Cast on: June 2020
Progress: 50%
Reason for stalling: the rows got sooooo long.
Determination: finish – kinda. Bind off as is. Ruby and my MIL helped me pick the colors, which I'm actually quite fond of. If it ends up being too small, will give to Ruby.
Dark Phoenix Shawl by Tamy Gore
Cast on: December 22, 2020
Progress: 15%
Reason for stalling: N/A! Current WIP, that I had to cast on after getting my advent calendar.
Determination: finish! The acid green might be a little bright in comparison to the other colors, but I think I'm okay with it. I love the idea of using skeins from the Lola Bean advent calendar paired with a Tamy Gore design.
Cityscape Scarf by Kaffe Fassett
Cast on: November 21, 2020
Progress: 14.5 inches
Reason for stalling: Doesn't travel well, considering the number of colors in the design.
Determination: finish! This project is a nice reminder that intarsia isn't as hard as you think and a fun way to play with color. I love the tip of just knitting with the strands free and 'pulling from the tangle'. This project also kept me company when I was quarantining down in my basement when I was spiking a high fever (thankfully it wasn't COVID!).
Cast on: December 13, 2020
Progress: 70%
Reason for stalling: Mainly distracted by other projects.
Determination: finish! Hoping to get it finished before the end of the year. That would bring my total pairs of socks to 9 for the year! I've been holding onto this beauty from Quaere for a long time, so it's nice to see it get used!
Cast on: Summer 2020
Progress: 30%
Reason for stalling: wasn't loving the colorway.
Determination: frog. This colorway just wasn't working for me in this design – I'm thinking it might work well held double.
Whew! Made it to the end. I'm not surprised to see that I only wanted to frog seven of twenty projects. It's hard to decide to scrap the work when you're faced with it, isn't it? But two of them are getting bound off as is, so I don't know that I count them in the 'finish' category. I've got a lot of sweater and cardigan knitting in my future! Of this list, I narrowed down the following projects to my 'active' list: 
Corcra Sweater -- I cruised through the early stages and am really excited to make something for Dan, so I wanted to build on that momentum!

Simone headband – it's so close to being finished, there's no reason not to just get it done!

Cabled Flax Hack for Ruby – as I mentioned above, I've been working on this the last few days. Nearly complete for the birthday girl!

Dark Phoenix Shawl – it's great TV / hanging out knitting. I love working with minis, because you get the enjoyment of adding a new color so frequently! I love that this design has eyelets and brioche! I've been wearing my first version (a rainbow one) a ton lately, so it will be fun to have a second.

Heel Toe Do Si Do Socks – I can probably finish the second sock in another sitting or two. And what's better than handknit socks in the winter?
Has my review inspired you to do a UFO review too? If you'd like to see your UFO review featured on the blog or you have some 2021 knitting goals you'd like to share, shoot me an email at programmingmkg@gmail.com! 
Next time I'll talk more about points 2 & 3 in my disciplined knitting plan for 2021! See you then :)